New Tradition at Trullo Casa Rosa: Apulian Welsh cakes
A new tradition has started at Trullo Casa Rosa!
I love it here in Puglia (by the way this is Gavin the Welsh writing), particularly the food culture. Local, seasonal produce, full of vibrant flavours.
It is said that Apulian food is peasant food, elevated to the food of kings and, in my opinion, that sums it up very nicely.
Sometimes though, you just want a taste of home, so the aroma of fresh Welsh cakes often emanate from our kitchen. However, I cannot find dried currants and mixed spice in the market, so I've given them an Apulian twist, using our own organic lemons. Also, the locals often find the thought of lard in a cake less than appealing, so I use 100% butter.
They are very simple to make and they are so moreish, that I don't think anyone has ever discovered how long it takes for one to go stale.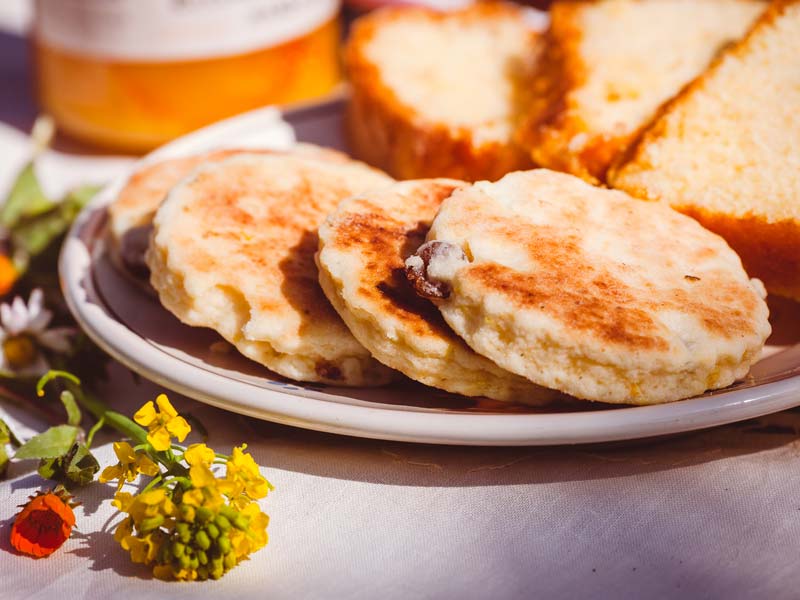 Ingredients
8oz (225g) of self raising flour (I use 00 with a teaspoon of baking powder)
1Pinch of salt
4 oz (100g) of butter, softened
3oz (75g) of sugar
Rind of one lemon, finely grated (un-waxed, organic if possible)
1 egg, beaten
If needed, a little milk to bring the dough together, though I rarely find this necessary.
Caster sugar for sprinkling
Preparation
Preheat a griddle, or a heavy frying pan to a moderate, even temperature.
Mix together the flour (baking powder) and salt and, using your finger tips, rub in the butter until it resembles bread crumbs. Add the sugar and lemon rind and mix with the egg to form a soft dough.
On a floured board, roll the dough out to a thickness of ¼ to ½ inch (5 to 10 mm) and cut rounds with a 3 inch (7.5cm) pastry cutter. Place on the griddle and cook both sides until golden. Lift onto a cooling rack and sprinkle with caster sugar before serving.
All the excess left from cutting the rounds can be rolled out again. The last bits are rolled out to make the daddy!